Nothing big here...
I have a subscription to
Knights of the Dinner Table
, but I don't actually read it every month. Since I like it mostly for the strips, I don't bother until I have several issues to read in a row, so it lasts longer. The strip is generally an ongoing story, and reading a single issue by itself just doesn't go anywhere.
So typically, I'll let the issues stack up somewhere for a few months, then take them with me on a long car trip or something. Which is what we did yesterday - we took an overnight trip to Evansville, Indiana. KJ got to go gambling, and this morning we went to a really nice zoo. The
Mesker Park Zoo
, to be exact. It's a great place; I highly recommend it. It's part park, part zoo, and it lets you get a lot closer to the animals than most zoos I've been to.
Anyway, back to KODT... So here it is, mid-July, and I just now notice that they printed a letter of mine in the march issue. I made a KODT reference in my
Itropa
mod, and I couldn't resist sending them a pic. From Knights of the Dinner Table, Issue 113 (March '06), page 8: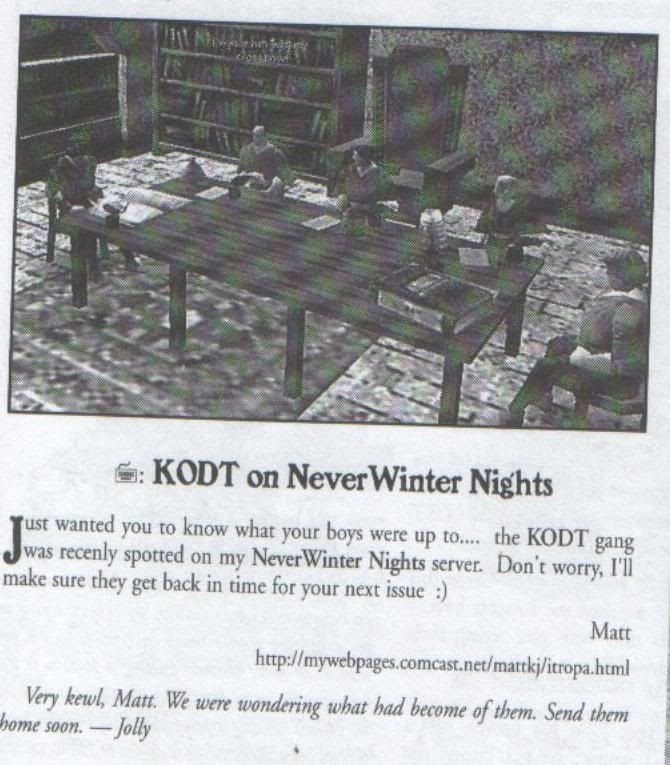 Here's a better view of the picture I sent them: